NEWS
Jennifer Love Hewitt Reveals "Guys Do Not Hit on Me"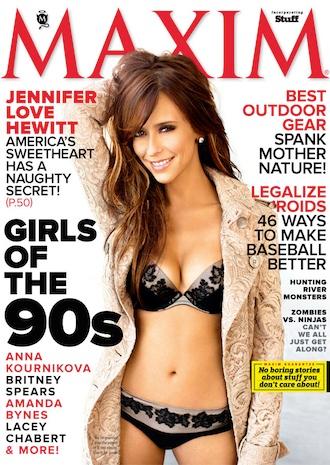 Jennifer Love Hewitt, the star of The Client List, has been under the microscope the past few years any time her weight has fluctuated, but she's taking a recent cover shoot as a sign of flattery.
OK! NEWS: KIM KARDASHIAN HAS A COPYCAT — JENNIFER LOVE HEWITT!
Actually, the April issue of Maxim marks the fourth time the actress has graced their cover!
"It's my scale of how good I look," she explained. "Whenever you guys call and say it's time to be on your cover, I'm like, 'OK, I'm in good shape.' And when you don't call, I'm like, 'I guess I should hit the gym.'"
Article continues below advertisement
OK! NEWS: JENNIFER LOVE HEWITT RETURNS TO TV IN NEW LIFETIME SERIES
In addition to the outdoor photo shoot, Jennifer dished about her character on the new Lifetime series. "I play an all-American Texas mom who is a former beauty pageant queen. She and her husband and two kids have fallen on very hard times, so she's forced to become a working mom whose expertise is keeping her clients happy. We'll just say it that way."
MORE ON:
Jennifer Love Hewitt
She added they have a lot of "really fun things in the series eye-candy-wise for our audience." Jennifer quipped, "It's not going to be your mother's Lifetime."
Acting aside,the newly single Jennifer confessed something that may sound kind of surprising.
"It might sound so stupid, but guys do not hit on me. I'm not really sure why but it's very rare that a guy will ever come up to me and be like, 'I'm going to lay down my game right now, and you're going to like it.'"