NEWS
Jennifer Love Hewitt's Last Word Outtakes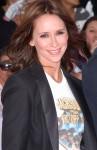 Jennifer Love Hewitt takes OK!'s Last Word interview in the issue out now. The Ghost Whisperer star, 31, sipped Pellegrino water in the basement of NYC's Borders Wall Street, prior to a book-signing for her relationship tome The Day I Shot Cupid, when she told all.
This is what you won't find in the magazine.
Last time you were mistaken for another celebrity?
Oh my gosh, I used to get mistaken as Alyssa Milano and Soleil Moon Frye all the time when I was little. I would sign autographs as them laughs. I thought it was really cool laughs. I was famous as them before I was famous as me laughs.
Article continues below advertisement
Last time you lied?
This morning, when someone asked me if I was tired, and I said no laughs.
Last time you felt guilty?
Probably when I bought Christian Louboutin shoes. I feel like I should've spent that money on maybe a family member or someone else, but I spent it on me laughs.
Last time you felt envious?
Anytime I see a picture of Gisele Bundchen, because she looks like Gisele Bundchen laughs. We all wish we could look like that.
Last time you saw your Kids, Incorporated co-star Stacy "Fergie" Ferguson?
The last time I saw Fergie was on an airplane to Hawaii. It was great. It was awesome. She was sitting there, and I tapped her on the shoulder and we had a big hug, spoke for a moment and then went back to our flights.
Last chore or errand you did?
The last errand I did was right before I made the trip here. I went and got mini hairsprays for traveling.
Last time you spoiled your cat?
My cat, Earl Grey, is spoiled every day. I always make sure there are lots of treats for him.
Last time you felt competitive?
I always feel competitive. I grew up in a family where we're all very competitive. Healthy, but competitive. I was playing poker, and I felt competitive with my mom laughs. I won.
Here's my pic with Jennifer Love Hewitt:
Pick up the OK! on newsstands now for the rest of Jennifer's Last Word interview. The cover line is Brad and Angelina/"Wedding For The Kids."