NEWS
Jennifer Takes on Sex and the City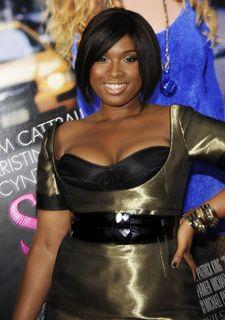 With an Oscar under her belt and a new dream role in the highly anticipated movie Sex and the City, it hardly seems possible that Jennifer Hudson was once known only as the girl voted off of American Idol.
The actress tells Parade.com's Jeanne Wolf what it was like to work on the famed SATC set, dishing on everything from the clothes, to men, to even--get this--how she had to research the show because she'd never seen an episode!
Article continues below advertisement
"I have to confess, I wasn't a fan," Hudson tells Parade.com. "So to get ready to do the movie, I watched a bunch of old episodes and I got hooked. I couldn't stop watching."
Jennifer, who plays Sarah Jessica Parker's (Carrie Bradshaw) assistant in the movie, says that while the cast got to wear the fabulous clothes, her character was, unfortunately, not as trendy!
"That was disappointing," she says. "I was like,'Damn!' I want some of what they're wearing.' But I play a regular, average girl who's just arrived from St. Louis fresh out of college. She didn't have enough bucks or plastic to go wild at those trendy boutiques."
So did she get to keep any cool swag from the set?
"Ooh, I wanted some of those bags like from Vuitton and Chanel," she says, adding, "I'm still waiting for one. Maybe it's in the mail."
Audiences will see Jennifer on the big screen again this fall in The Secret Life of Bees, based on the best selling novel. She's also finally gearing up to promote her debut album. Her first single, "Dressed in Love," is on the SATC soundtrack.
Article continues below advertisement
"The weird thing is that a lot of people think I've already done my first album," she says. "They're like, 'So is this the second or the third?' It took some time to get it right, but you can't go wrong when you have Ne-Yo writing the first single. It's a great song and doing the album is something I've been dreaming about my whole life."
Jennifer adds, "I feel a lot like me when I'm singing. I guess belting out a song is more me. But being a girl trying to make it in Sex and the City feels natural too. I don't ever want to have to choose between them. I have a passion for both, and I think that's what it's all about."