NEWS
Jenny & Jim: Happily Unhitched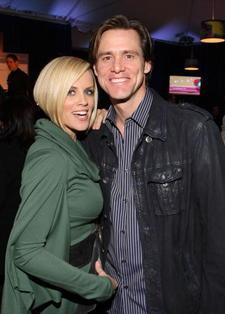 Don't bother asking when Jenny McCarthy and Jim Carrey are going to walk down the aisle -- it's never going to happen, the actress asserts. Expounding on earlier statements that she and her beau of nearly two and a half years have no plans to get married, Jenny explains that she doesn't see the "need" for marriage.
"I don't really see the need to get married," she tells Extra. "We are living together. We're very happy."
Article continues below advertisement
And, the 35-year-old adds, eschewing marriage would also help the environment.
"We don't know what that would do, other than give us a piece of paper so we say, 'Save a tree. Keep your piece of paper and let us just live the rest of our lives as happy as we already are.'"
Jenny, who has a 5-year-old son, Evan, from her first marriage, also maintains that she and Jim, dad to daughter Jane, 20, with his ex-wife, don't plan on having children either. She already has her hands full enough with Evan and her Web series In the Motherhood, in which she plays herself as a teenager. But would she ever want to revisit her youth for real?
"High school was pretty much the worst time of my life. It was really hard. I went to an all-girls Catholic school and when you have great hair in an all-girls Catholic school, you're not liked very well. High school is a lot like Hollywood just with money where there are popularity contests, cliques. I try to avoid that as best as I can."
For more on Jenny, tune in to Extra tonight!