NEWS
Jenny McCarthy Slowly Commits to Jim Carrey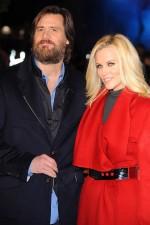 Jenny McCarthy is in no rush to wed boyfriend of four years Jim Carrey.
"We're soulmates," she tells me. "I think we already are married, it's just a matter of having a piece of paper. Maybe when we're 85 and we need some tax breaks? But other than that, no." laughs
The actress, who divorced John Asher in 2006, certainly appreciates the 47-year-old actor's way with her son Evan, 7, who has been diagnosed with autism.
Article continues below advertisement
"He loves him unconditionally," Jenny says. "He's been there through everything. There's a soul connection that goes beyond anything, and when that's there, nothing can really break it apart."
What role does humor play in their relationship?
"We definitely have our moments of making each other laugh, but for the most part, you know, we're usually tired," she laughs. "We're not doing any sort of comedic routine, so we're just very real with each other. We still have a great time, but we're definitely not doing characters for each other."
Since they're not hamming it up, they can be found concentrating on winning big.
"We like to play poker together," she says. "I taught him, so I would say I'm a little bit better right now."
Jim's movie, A Christmas Carol, is in theaters now.