NEWS
Jenny McCarthy Talks "Man Junk": "Size Definitely Helps. Average is Awesome"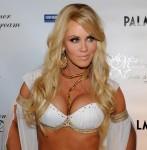 Jenny McCarthy has a new book to promote with the lovely title, Love, Lust & Faking It: The Naked Truth about Sex, Lies, And True Romance. So naturally, love, lust and faking it were the topics of conversation for Jenny when Access Hollywood caught up with the star.
OK! EXCLUSIVE: BEHIND JENNY & JIM'S SPLIT
With her new book out and being a former Playboy Playmate, Jenny has become somewhat of an expert when it comes to love and lust, so Access Hollywood put her to the test!
Article continues below advertisement
*Warning! It's pretty inappropriate!*
"Dispel a myth for men: Do women lust as much as men lust?" Billy Bush asked Jenny.
"No, you guys!" Jenny said. "I mean, mind you, as we get older, I've noticed, now being 37, I'm much more horny than I was in my 20s."
"How horny are you – scale of 1-10?" Billy asked to which she replied laughing, "I'm about a 9.8."
OK! NEWS: JENNY MCCARTHY OPENS UP ABOUT JIM CARREY SPLIT TO OPRAH
"Does size matter?" Bill continued as they moved on to the topic of "man junk."
"Size definitely helps, but the thing is, you don't need big," Jenny said. "Average is awesome. Standard issue is awesome!"
"Do you like girls or no?" Billy asked referring to a section in her book on bisexuality.
"Me being a Playmate? Of course," she said. "Being around naked women, something is going to happen," she revealed. "Yeah, I've played around."
OK! GALLERY: COUPLES GET COZY AT HBO EMMY AFTERPARTY
But she hasn't played around with sex tapes.
"Do you have a sex tape?" Billy asked.
"Oh, I love that question," Jenny laughed. "No I don't have a sex tape and I'm kind of upset that I don't. You know why? 'Cause I'm really good."