NEWS
Jenny McCarthy vs Barbara Walters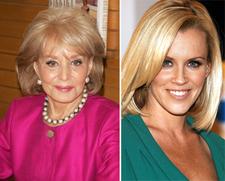 Don't cross Barbara Walters!
Star Jones and Kathy Griffin learned that the hard way, but now Jenny McCarthy has lashed out at the talk show heavyweight.
In her new book, Mother Warriors, which describes her 6-year-old son Evan's autism treatments, Jenny claims that before her 2007 appearance on The View, Barbara said, "Most doctors do not agree with anything you are saying. Isn't that true?"
Barbara then ordered her to answer "yes" to the same question on air.
Article continues below advertisement
"I watched her face transform into rage," Jenny recalls in the book. "I stood there again in shock that someone in journalism I regarded so highly was not only being vicious, but also trying to alter what I would say in an interview."