NEWS
'Jeopardy!' Day 2 of Watson Watch: Computer Dominates Competition!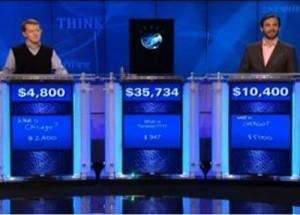 Jeopardy!'s Watson watch continued last night as IBM's artificial intelligence computer program trumped the competition — Jeopardy! champs Brad Rutter and Ken Jennings — earning triple the winnings and making the audience and host Alex Trebek laugh along the way!
Watson proved himself to be a brain in Final Jeopardy last night and learned how to be a clever player as well.
OK! VIDEO: WATCH WATSON THE COMPUTER TAKE ON JEOPARDY! CHAMPS KEN JENNINGS & BRAD RUTTER
Article continues below advertisement
The computer wasn't sure of his answer, he played it safe with a low wager!
The final winnings? Watson with $35,734, Rutter at $10,400 and Jennings at $4,800.
Definitely a huge improvement from his debut performance where he still won, but tied the all-time points leader Rutter at $5,000.
WATCH Watson blow his competition out of the water in the clip below!