NEWS
Jeremy Piven & Barack Obama: Phone Buddies!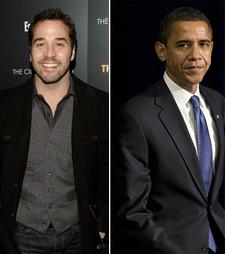 If Barack Obama left you a voicemail, wouldn't you save it forever? Jeremy Piven revealed today that the President-elect had left him a message with his phone number, but that the Entourage star accidentally erased the voicemail!
"I was lucky to stump for Barack in Indiana and to introduce him in Chicago. Barack left me five phone numbers." he tells Extra. "It was the greatest voicemail that I've gotten in my life by the way... I saved it and I went back to listen to it and my BlackBerry had erased all of Barack Obama's phone numbers. Then when I called back to try to tell them, 'Can I get Barack's number? He left it for me.' They didn't believe me and I now have nothing and I've been trying to find him."
Article continues below advertisement
The Entourage actor, who was nominated this morning for a Golden Globe for his performance on the show has another, slightly odd connnection to Barack– his character, Ari Gold, is based on Hollywood agent Ari Emanuel, whose brother is Barack's new chief of staff, Rahm Emanuel.
With all those connections, he's got to be able to get to the inauguration!
"I have no invite to the inauguration and I think I'm going to crash it to be honest with you," he jokes. "I'm on stage right now doing Broadway and I'm going to miss my show to go to the White house and I don't have a ticket."
Come on, Mr. President-elect, give the Piv a call!