NEWS
Jeremy Piven Tries Standup For The First Time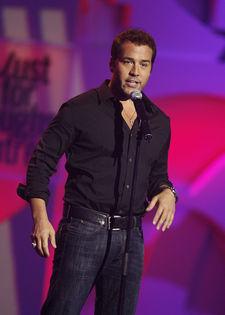 Jeremy Piven tries his hand at comedy during the Just For Laughs Festival in Montreal. He hosts a gala at Theatre St. Denis.
"This is my first time doing standup right now," he announces.
Just as he's bragging about his humility, the Entourage star receives a text with a feature film offer. "How many zeroes in a million? There's a lot more than that. U.S. currency. You could buy jet skis with it, and stack them up."
Article continues below advertisement
He has security escort a guy out of the venue when he doesn't appear to be having a good time. "See you later buddy-boy. Who's next? I will start firing entire rows."
He compliments Canadians on their laidback nature.
"When people see me in the States, they go 'that's the dude who killed the hooker in the bathroom in Vegas.' I'm like 'that's a movie I did ten years ago, and that's a character I played and this is my mother and we're having dinner, and you're yelling at me.'"
He says he loves being tested by others when they bet he doesn't remember them. It becomes a guessing game.
"I take my mom to awards shows because I love my mom and I love to be celebrated," he yuks. "I was at the Golden Globes with my mama, and Meryl Streep comes up. She says 'I'm so sorry I missed you in that play you were doing. I'm looking at her thinking 'this is a Meryl Streep lookalike. How does Meryl Streep know who I am? That's insane. And I ask her to say it again to my mom. Afterwards, I go 'mom, what did you think?' My mom lost all of her senses – she couldn't hear, she couldn't smell, so my mom says 'I need to say hello to Mike Nichols, who is the director of a little movie called The Graduate. He kind of knows what he's doing. She's like 'I need to connect with Mike Nichols. I haven't seen him in fifty years. I thought that's fantastic, let's go find him, when I hear '30 seconds, take your seats, we're at the Golden Globes, it's televised.' No pressure whatsoever. We finally get there, and she says 'you don't remember me, do you?' My favorite thing in the world. At that moment, they said take your seats, Everyone sat down. My mother and I are standing like crazed seat fillers on national television. We wander our way back to our seats. It was my category, and they said 'the winner is…Jeremy…Irons!' And I'm standing. Irons … Jeremy Irons is in my category. And I sit down and everyone loses. But that's the last time I lost. From now on, I'm just winning."
Article continues below advertisement
He shares his thoughts on the opposite sex.
"Women dress for each other, they don't dress for us," Jeremy says. "They wear cool-lots and maternity dresses even when they're not pregnant. What they don't realize is you could be wearing a wife-beater and rummaging through the trash and we'd still take a run at you. You're working so hard, but you look fantastic. I love it when you ask women what their heritage is, and they say 'I'm 1/18th Cherokee' and I say 'the only reservation you had was at Applebees. I say listen, I'm a standup comedian.'"
With that, Jeremy runs up the steps to play drums with two guys named Pierre. "Wouldn't it be funny if celebs had other jobs, and Stallone was like a yoga teacher?"
During dinner outside at 3 Amigos on Rue St. Denis, dozens of inflatables roll by including a man-in-a-ball; blonde woman float; and the heads of random Canadian comedians I don't recognize. One pokes his humongous head into my caesar salad!
The two girls sitting at the table beside us confess they drove from Toronto and Ottawa to catch a glimpse of Jeremy. Jen, who is a librarian, hails from Toronto and would give anything to meet the Pivster. Oh really…
Pick up the OK! on newsstands now for more coverage of the Just For Laughs Festival. The cover line is Matthew McConaughey/"Daddy's Little Boy."