NEWS
Jermaine Dupri Won't Party Without Jay Z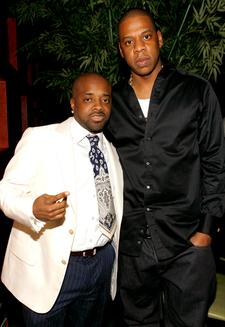 Remember in eighth grade, when you wouldn't go to the sleepover if your BFF wasn't going too?
Well it seems Jermaine Dupri still rolls like that.
On March 25, Rocawear threw a party at NYC hotspot, Greenhouse, to launch it's new Web site, Roc4Life.com.
But while the celebrity crowd sipped Grey Goose cocktails in the club, it turned out Roca head honcho Jay Z couldn't make it to the bash.
Meanwhile, the Grammy-winning producer and his girlfriend Janet Jackson pulled up outside the SoHo lounge ready to party – but had a sudden change of heart when they heard the Jiggaman was not in the building.
Article continues below advertisement
"Jermaine was outside in his car, but didn't come in because Jay Z wasn't there," said a source at the party.
So the pair split, without even setting foot outside the car.
Maybe they had just decided they were hungry – since they were later spotted chowing down at trendy restaurant, The Waverly Inn.
By Jacob Hentoff