NEWS
Jerry Seinfeld on 'The Jay Leno Show': The Right Idea at the Wrong Time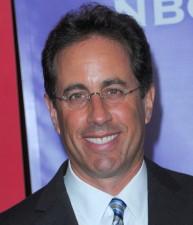 With Jay Leno ousted from his primetime spot and the future of NBC late night TV in limbo, many are concerned about where their favorite talk show hosts will end up. Jerry Seinfeld defended his comrade Jay and told reporters at NBC's Television Critics Association panel in Pasadena on Sunday that he feels Jay's primetime comedy program was an innovative idea, but with bad timing.
Jerry has a strong relationship with the network, and he praised NBC — where his show ran for nine seasons — for taking a chance and trying something new.
Article continues below advertisement
"I'm proud of NBC that they had the guts to try something so different and original and now you can go on and do something else," he said. "That's show business. You've just gotta try things."
Jerry — who was at the NBC critics association panel promoting his upcoming comedy reality judging competition, The Marriage Ref — reminisced on other big media moves which fell amiss.
"I was kind of thinking about the… AOL/Time Warner deal. Everybody goes, 'What a horrible deal that was for Time Warner! What a screw up that was. It really wasn't, it was just bad timing," he told reporters. "If that deal happened today, and you replaced AOL with Google, it's a great deal and they'd go on to great success. But that deal was the right idea at the wrong time. I think The Jay Leno Show was also the right idea at the wrong time and was not a bad idea."
Sunday morning, NBC Universal Television Entertainment Chairman Jeff Gaspin announced to the Television Critics Association that Jay's nightly show will no longer be airing at 10 p.m.
"We realized we had to make a change," Gaspin said, referring to the near-disastrous ratings that Jay had been earning since moving his late-night chat fest to 10 p.m., taking up a slot long-reserved for dramas like ER and investigative news shows like Dateline.
Article continues below advertisement
Jay will continue with his show through Friday, Feb. 12. This coincides with the beginning of two weeks of Winter Olympics coverage on NBC.
Gaspin said NBC has spoken to Jay, Conan O'Brien — who took over the Tonight Show following Jay's retirement at the end of last season — and Jimmy Fallon — who took over for Conan at 12:35 a.m. when he moved up a time slot — and has "proposed" that Jay's show air in a 30-minute format at 11:35 p.m., with the Tonight Show moving to 12:05am, and Late Night with Jimmy Fallon at 1:05 a.m.
One reporter asked Jerry at the event how he would react to the reshuffling if he were Conan.
"I don't think anyone's preventing people from watching Conan," Jerry responded. "In my business, you know, I'm a stand-up comic. There's no rules. Once they give you the cameras, it's on you, so I can't blame NBC for having to move things around. I mean, Conan has a chance to destroy everybody. Go ahead. You're out there. I don't think anyone's done anything to Conan. I hope he stays. I think he's terrific and Jay and Conan were great. They should keep them."