NEWS
Jerry Seinfeld's Wife Jessica is Behind Comic's Return to TV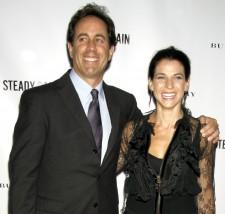 Jerry Seinfeld says his wife Jessica came up with the idea for his new network TV show, Marriage Ref.
She came up with the concept during dinner with a friend during which Jerry and Jessica had an argument. They persuaded their buddy to listen to both sides of the dispute and decide who was right, reports the L.A. Times.
The show, Jerry's first foray into prime time since the 1998 Seinfeld finale, will premiere on NBC on Feb. 28 after the closing ceremonies of the Winter Olympics.
Article continues below advertisement
"Sports simplicity is what's missing in marriage," says Jerry, 55, who married cookbook author Jessica in 1999.
Each show will feature three to five couples who will air their disagreement during a filmed segment at their home.
A panel of celebrities in a studio will then debate the issues before handing the matter over to comedian Tom Papa — the Marriage Ref — who will make the final judgment.
Panelists already signed to appear include Tina Fey, Charles Barkley, Alec Baldwin and Larry David. Jerry will appear during the premiere and a few other episodes.