NEWS
'Jersey Shore' Clip: Snooki Gets in a Fender Bender With Police Car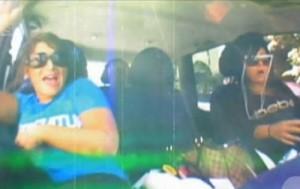 Jersey Shore stars Nicole "Snooki" Polizzi and Deena Cortese always seem to be getting themselves into some kind of trouble, and on last night's episode the drama escalated to a whole new level. Snooki got herself into a fender bender and hit a police car, causing the police escort to be rushed away in a ambulance and her and Deena to take a trip in a police car!
After a night of raging in the club, drinking and making out with Deena combined with the busy traffic on the Italian streets, it's no surprised Snooki hit the cop car.
Article continues below advertisement
Luckily she passed the breathalyzer test and was sober during the accident.
Snooki's accident made media waves earlier this year, but this was the first time fans of the hit MTV reality show were seeing it played out on TV.
According to reports, the two officers in the car were hired to escort Snooki through the city, but when she crashed into one of them, the plan was spoiled.