NEWS
'Jersey Shore' Clip: Watch Sammi Try to Hook Up With Ronnie!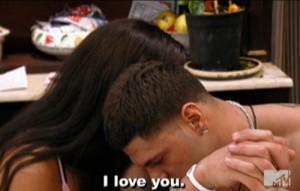 The saga of Sammi "Sweetheart" Giancola and Ronnie Magro continued last night on Jersey Shore. The on-again off-again lovers are still clinging to one another, and last night Sammi showed some weakness as she tried desperately to get close to her ex.
It didn't help matters that both of them were intoxicated when Sammi decided she wanted to get back together with Ronnie.
Article continues below advertisement
And not only did she want to hook up, she also wanted to have a serious conversation with him at the club.
"Me and Sam drunk having conversations about a relationship, that's definitely not the best time to have conversations," Ronnie explained.
But she wasn't giving up, and when they returned home from the club the two got quite cozy over a late-night snack.
"I miss you.... I love you.... I miss you. I just want to go in the bed and cuddle with you," Sammi gushed, kissing Ronnie on his back and shoulders.
And although Ronnie decided to say silent and let Sam caress him and whisper sweet nothings in his ear, he still wasn't having it.
His response to the camera was pretty priceless and, of course, NSFW.
Catch the clip, via TV Squad, below!