NEWS
'Jersey Shore' Host Talks Sammi & Ronnie, Snooki's Dating Show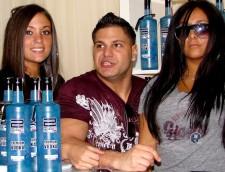 Jersey Shore After Hours host Julissa Bermudez joined the cast for Thursday's reunion show during which Sammi told Ronnie "we're done." Now, she sets the record straight about their breakup, Snooki's dating show and the future of Jersey Shore.
Plus, the MTV VJ reveals how to get Snooki's poof (Bumpit alert!) and what makes The Situation so appealing -- but not to her.
What happened last night between Sammi and Ronnie that we didn't see on TV?
Article continues below advertisement
They definitely had some trouble watching the never-before-seen footage. Sammi was very uncomfortable, which is what caused her to walk off set for about 45 minutes, and Ronnie was furious. He had no idea Sammi and The Situation had that intimate conversation. But the audience didn't get to see when they made up off camera.
What you see is what you get with these two. Love each other one minute, and can't stand each other the next.
What was the final outcome – are they over?
Last time I checked they were still very much a couple. Seems as though they can't get enough of their ups and downs.
What are they typically like together?
At first, I was a little bit skeptical about whether it was the real deal, or if it was for the camera, but they really are a couple. They were all over each other. It's the real deal.
What do you know about season two of Jersey Shore?
Article continues below advertisement
During the reunion, I mentioned the upcoming casting for Jersey Shore 2, but I'm not sure if that would happen. I have a feeling this cast will be back. But you'll have to stay tuned to see if they will be tearing up Seaside Heights again or a new location.
What do you hear about a Snooki reality show? Is Snookin' For Love really happening?
All I know is that Snooki is still taking, as she would say, "Guido applications."
What might surprise us about Snooki? What is she really like?
When you see her on camera, she's very outgoing, bubbly, lives moment-to-moment, and just loves life. She has such a good time. And she's such a sweetheart. She's so fun to be around. She was even teaching me how to do her infamous poof.
How do you do it?
She says it's all about the teasing and the position of the hair clip, which is very important.
Article continues below advertisement
Does she use Bumpits?
Are those the as-seen-on-TV things?
Yes. Does she use them?
No, she doesn't, which is the amazing part about it. It's all her perfecting her poof. As she says, she freakin' invented the poof.
What about The Situation? He seems like he has a real attitude.
Listen, Mike is such a charmer. He was flirting with me the whole time to the point where I was like 'alright, get it together so we can do this interview, you know?' He can't help it. He is The Situation wherever he walks in the room.
Are you attracted to him?
He's generally not my type. I don't really like guys who I have to be fighting over hair gel with. He's not my type, but he's a super nice guy, and I'm sure he'll make any girl who is not a fan of hair gel – and they won't have to fight over the bottle – very happy.
Props to Julissa for hitting me back today from Africa, where she is filming a Kohl's ad. Way to go! Want to relive Jersey Shore? Click here.