NEWS
'Jersey Shore' Star Snooki Talks Boobs, Guidos & Drinking at Work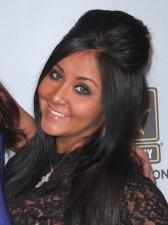 Guidos. Guidettes. Spray tans. SoCo shots. Hookups. And Snooki. Since MTV's reality show Jersey Shore debuted, the nation has become enthralled — and sometimes appalled — with the beach house full of hard-partying 20-somethings. And no one's made more of a splash than Nicole "Snooki" Polizzi, a tiny, big-haired wild child best known for getting punched in a bar by a male gym teacher.
Still, the 21-year-old veterinary tech student insists, "People think I'm all about partying, but I'm not. I'm also laid back; I'm chill. I stay away from drama." Except, that is, in this exclusive interview with OK!.
Article continues below advertisement
What do you say to people who think the show is derogatory toward Italians?
People need to relax. It's just young people having a good time at the Shore. We want to have fun, and yeah we get drunk. It's just a TV show.
There have been a lot of hookups in the beach house.
Probably at least a hundred alone from Mike and Pauly. Me and Mike hooked up. Jenni and Pauly hooked up. And Ron and Sam — they're still together.
A few of the girls already had boyfriends before the show.
It's a very bad ideas to come to the Shore with a boyfriend. You're going to cheat. Angelina cheated. And Jenni cheated — but she and her boyfriend are still together as far as I know.
Do the guys constantly work out?
Pauly and Mike would wake up at 9 and go to the gym for an hour and a half. Mike even has this thing where he works his abs when he's sitting.
Article continues below advertisement
FOR MORE OK! EXCLUSIVES, BE SURE TO PICK UP THE NEW ISSUE ON SALE EVERYWHERE THURSDAY!
Whose style do you most admire?
Jenni's because she has those big, fake boobs and can wear anything. Mine are real! You want to see them?
How often do you tan?
I really don't tan because I'm half Spanish so I've got that year-round tan. I was adopted.
Have you met your birth parents?
I really don't want to. I love my parents so much; that doesn't matter.
How was it working with your housemates at the T-shirt shop?
I hated it! It was two or three days week, for four or five hours, but it felt like 24. I never worked, I just stood there. We had SoCo Southern Comfort in the back; I'd take shots.
Any show moments you regret?
The first night. I don't like to be black out drunk like that. It's embarrassing.
What would you like to say to this man who punched you?
You're the loser of America! He'll always be known as the guy who punched a little girl.
What's next for Snooki?
I want a dating show — Snookin' For Love. I want to find my prince. I'd have 27 guys: guidos and juice heads. That'd be heaven. Every time I'd pick a guy, I'd give them a pickle and we'd eat the pickles at the end.