NEWS
Jess Sees the Funny Side of Weight Gain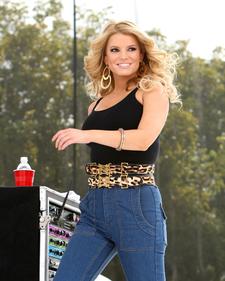 It seems that Jessica Simpson's reported weight "scandal" is weighing heavily on her mind - even influencing her wardrobe decisions.
When she took the stage tonight at NYC's Madison Square Garden, there were no more tight jeans and tops like the ones in those now infamous snaps from a Jan. 25 chili cookoff in Pembroke Pines, Florida.
Instead she wore shorts covered by a long, loose top in slimming black. Jess even joked with the audience that she had decided not to wear pants because she was worried they would tear!
Article continues below advertisement
"I was worried my pants would rip tonight!" she joked with the crowd.
Supporting country hitmakers Rascal Flatts, Jessica seemed back on her game after a shaky performance last week in Grand Rapids, Michigan.
There were no more of the fumbled lines or do-overs that her rep had explained away as Jess being a "perfectionist." But she did seem at pains to silence the rumors that she and boyfriend Tony Romo had split. Jess peppered her nine song set with lovey-dovey references to her Dallas Cowboys quarterback beau, who didn't seem to have made the trip to the Big Apple.
Introducing "You Are My Sunday," she said, "You know there's something about being in love that makes you happy to be alive every day. It's OK if it's Groundhog Day if you're in love. Well, that's kind of how I feel right now."
And in what seemed to be nod to the recent gossip about her weight, Jess told the audience that when she'd played Madison Square Garden in the past, her pants had ripped.
"So I wanted to wear something tonight that I knew wouldn't split!," she laughed.
That's it Jess - don't let the haters get you down!
By Oliver Coleman