NEWS
Jesse Eisenberg Says "It's Annoying" to Be Mistaken For Michael Cera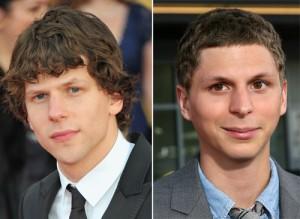 Article continues below advertisement
And while he may not feel he's made a name for himself yet, he still needs to learn how to take a compliment.
"The more people say nice things about me, the more I feel it's false. Or the more I look for the things that are bad about me, and think those are the real ones," he explains. "I could overhear somebody say something about me, and it destroys me for a week. Yet I could win an award or hear nice reviews and it feels meaningless."
"Winning the National Board of Review prize was great. But then I immediately found some reason to be miserable again. It's terrible," Jesse admits. "I'm able to manipulate things into being bad, which is not a healthy way to live but that's where I'm at now."
OK! GALLERY: JUSTIN & JESSE CONFIRM THEIR FRIENDSHIP AT THE SOCIAL NETWORK SCREENING
And The Social Network star claims he hasn't made any new friends since the film came out and "there has been no change in the type of scripts he has been receiving since The Social Network was released."
We bet there are plenty of people who would love to be his Facebook friend!