NEWS
Jesse James' Lawyer: "He's a Broken Man"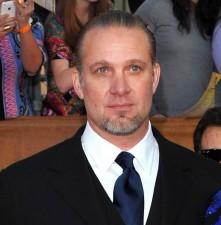 Jesse James is starting to really feel the repercussions of his alleged affairs. The West Coast Choppers founder is a "broken man" who is trying desperately to save his marriage to wife Sandra Bullock, according to his lawyer.
"This whole thing has destroyed Jesse's entire universe," his attorney Joe Yanny told TMZ. "Right now, he's a broken man."
Article continues below advertisement
Yanny says Jesse is still in very much in love with Sandra and is desperately trying to hold on to his marriage with the Oscar winning actress.
"The single most important thing to Mr. James and the children is that the marriage somehow survive," his lawyer said.
Jesse, 40, is currently being treated at the Sierra Tucson rehab facility in Arizona, TMZ reports. His lawyer advises people not to assume the treatment is for sex addiction.
Anger management? Perhaps Jesse's "broken" state explains why he broke out on another paparazzo's vehicle.
Jesse James was cited for vandalism Thursday, according to E! Online, for allegedly taking out some aggression on a paparazzo's car that was parked near his Orange County West Coast Choppers bike shop last week.
Article continues below advertisement
A citation is equivalent to an arrest, according to Long Beach Police Sgt. Dina Zapalski. It will be up to city prosecutors to press charges, she told E! Online.
Jesse and the photographer, Ulises Rios, made a mutual citizens arrest last week, on March 25, after Rios reportedly called the police in Long Beach, Calif. to report that Jesse vandalized his property, which is thought to be his car, but that was not confirmed by the police.
Jesse accused Rios of stalking. Neither Jesse nor the photog were taken into custody.
Rios' attorney, Mark Hashaulter, told E! Online that video footage shot by his client shows James confronting him and his SUV sitting there with two slashed tires, a dented door and a scratched window.
Jesse's reps have not commented at this time.
Sandra was photographed Wednesday for the first time in two weeks traveling from her Hollywood Hills home to the home of longtime family friend Gabriel Brener.
She remained covered in a garment bag.