NEWS
Jesse James' Loyal Motorcycle Crew Shows Him Support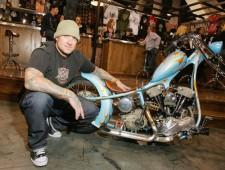 While Jesse James' indiscretions may cost him his marriage to Sandra Bullock and sever ties with his family, his West Coast Choppers buddies stand by their founder. Jesse's motorcyle-loving fans are taking to the streets to show him support, TMZ reports.
Members of the West Coast Choppers — a manufacturer of custom-made motorcycles which Jesse started from his mother's garage in 1992 — organized a ride to show support for Jesse via their official Web site, TMZ reports.
Article continues below advertisement
Jesse's devoted followers plan to meet up at Cisco Burgers (Jesse's Long Beach restaurant) for breakfast and then continue the day on a ride to "show a little positive support for Jesse and the crew," according to TMZ.
To date, Jesse has been allegedly linked to having extramarital affairs with four women.
"This has caused my wife and kids pain and embarrassment beyond comprehension and I am extremely saddened to have brought this on them," . "I am truly very sorry for the grief I have caused them. I hope one day they can find it in their hearts to forgive me."