NEWS
Jesse James' Search for Cinnabun is Over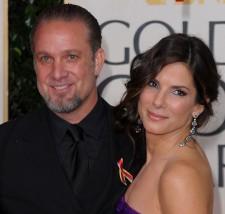 After a desperate search for his beloved dog Cinnabun, Sandra Bullock's husband Jesse James was reunited with his pooch three weeks after she disappeared.
"Woooooo Hooooo!!!! It's Her!!!" he Tweeted last night, along with the first of several pictures of his reunion with the 10-month-old pit bull. "So Happy! ... She looks like she hz had quite the Adventure!"
OK! NEWS: SANDRA BULLOCK'S OSCARS OUTFIT
Jesse and Sandra hired dog detectives Find Toto last month, offering a $2,000 reward for Cinnabun, the shop pet for his West Coast Choppers who had somehow escaped the premises last month.
Article continues below advertisement
"The search is over!" he wrote on his official blog. "We got a call from a gal by the name of Rosaura in Los Angeles today saying she had Cinny.
OK! HOT GALLERY: SANDRA BULLOCK GIVES US A SMILE
"Since we have had quite a few false alarms, we were cautiously optimistic. She said she'd bring Cinnabun to us, and everyone at the shop was really anxious for her to get here to see if it was, in fact, Cinny.
"The car pulls in, the door flings open, and out pops Cinnabun! It's been just over 3 weeks since we last saw her, and were starting to wonder if we'd ever get her back...and there she was."
OK! NEWS: SANDRA BULLOCK DONATES $1 MILLION TO DOCTORS WITHOUT BORDERS
Jesse and his biker pals may be celebrating Cinnabun's return, but the daredevil isn't taking any chances with his four-legged friend.
"We're taking her to the vet to get her all checked out and chipped, and GPS'd, and live-tracked by Google Earth...the works. We don't want to lose this little gal again!!!"