NEWS
Jessica Alba: Attack Shark!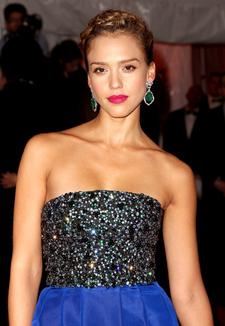 Note to vandalism-prone stars everywhere: posing for a picture in front of the property you just plastered with a Great White shark poster probably isn't the best idea for evading detection.
TMZ reports that Jessica Alba is under criminal investigation for plastering electrical boxes, a bridge and a United Way billboard with shark posters in Oklahoma city. Cops say the city's Director of Parks and Recreation, Wendell Whisenhunt, filed a police report after pictures surfaced allegedly showing Jessica, who's in town shooting a movie, posing triumphantly in front of the defaced property.
Article continues below advertisement
Officials are also having a hard time prying the shark posters off, which is another problem. Jessica's rep is already working to cover her celeb client, and has called United Way and offered to replace the billboard.
Yes, we're humming the theme to Jaws too.