NEWS
Jessica Alba Embraces Her Baby Bump & Disses Plastic Surgery, Says "Physical is So Fleeting"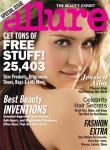 Gracing the cover of magazines is just another day at the office for Jessica Alba but this time the pregnant actress opened up her post-baby body after giving birth to Honor and her thoughts on plastic surgery. Here's a hint: No way!
OK! GALLERY: JESSICA ALBA TAKES HONOR BABY SHOPPING FOR HER FUTURE SIBLING
Jessica graces the cover of Allure and admits, "I can't ever get down to the weight I was before I had Honor. My body's just different. The jeans just sort of zip up differently, and things hang differently." As noted by Celebuzz, she added, "It's a miracle what happens, but you definitely are different afterwards. Unless you're Gisele Bundchen."
Article continues below advertisement
OK! GALLERY: JESSICA ALBA TREATS HERSELF TO DAY OF SHOPPING
Even though her body's different, it sounds like she's embracing all of the changes. "There's a reason why certain areas of the body are desirable—because it all leads to reproduction. There's a science behind it all. It's not just to sell whatever you're selling on a billboard or a magazine or a movie."
So, what happens post-pregnancy if she gets the urge for a little nip here, tuck there? No can do. Jessica's opposed to going under the knife and says, ""That's just so bizarre, because the physical is so fleeting, anyway, and when you're in a relationship, the physical lasts for maximum, two years."
The next issue of Allure hits newsstands Tuesday, July 19.