NEWS
Jessica Alba Escapes Jaws of Justice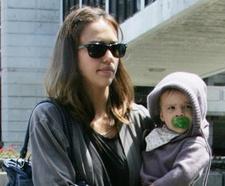 A week ago, it looked like Jessica Alba was in hot water with the authorities in Oklahoma City after photos emerged of her joining in with other vandals who thought it would hilarious to place posters of sharks all over town.
But according to a report on <a href="http://www.tmz.com/2009/06/15/jessica-alba-off-the-hook/" target="_blank">TMZ.com</a>, the Fantastic Four star isn't going to face the long arm of the law and will not be charged in the incident. The item says that the Oklahoma City Police opted not to pursue the case — even though she's admitted to taking part — because no one was willing to prosecute the case.
Article continues below advertisement
Jessica, in Oklahoma City to shoot a movie, <a href="http://www.okmagazine.com/news/view/14813/Alba-Issues-Apology-to-Oklahoma-City" target="_blank">issued an apology</a> of sorts after being caught red-handed. "I got involved in something I should have had no part of," she said at the time. "I realize that I should have used better judgment and I regret not thinking things through before I made a spontaneous and ill-advised decision to let myself get involved with the people behind this campaign. I sincerely apologize to the citizens of Oklahoma City and to the United Way for my involvement in this incident."