NEWS
Jessica Alba on Lindsay Lohan: "We Hang Out & Chat for Hours"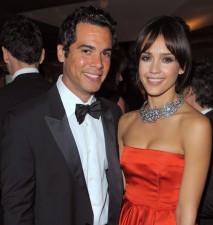 Jessica Alba is speaking out against rumors of husband Cash Warren's infidelity with Lindsay Lohan in the March issue of British Cosmopolitan. Besides dismissing the false reports, Jessica, 28, opens up about living in the public eye, her modern approach to marriage and why it wasn't easy for her to take walk down the aisle.
Jessica says reports of a kiss between Cash and Lindsay were merely gossip, and she doesn't let the rumor mill affect her anymore.
Article continues below advertisement
"When people wrote lies about me before I had my daughter Honor, I'd get upset or I'd get nauseous or I'd get angry or I'd want revenge," she tells Cosmo UK. "Now, it's like, it's just so ridiculous and it's not even close to being the truth."
OK! NEWS: JESSICA ALBA LOVES HER STRETCH MARKS
Jessica even comes to the defense of Lindsay in the situation.
"Lindsay's had to deal with this for so long. Everyone has to live their life, and that's what people forget when you're in this business… she's really nice," Jessica says. "We hang out and chat for hours about girl stuff."
"My husband may do a TV show with Lindsay – ironically, about the ridiculousness of tabloids," she said.
Jessica and Cash have been married for two years and are the proud parents of daughter Honor Marie. Jessica is every bit the doting mom, with Honor usually attached at her hip.
OK! HOT GALLERY: HONOR MARIE SPENDS QUALITY TIME WITH MOM & DAD
Her family life is definitely admirable; however, Jessica reveals that she wasn't eager to take that trip down the aisle.
Article continues below advertisement
"I had a hard time agreeing with marriage at all because I feel like it's been warped. Originally it was two families coming together to make a stronger family. It was about survival – not love or soulmates. And it wasn't until the last, what, 100 years that we've put this onus on marriage being about finding your soulmate," she says.
"And now, the way they market marriage – even as a kid through Disney movies – is that it's all about Prince Charming sweeping you off your feet. There's this mentality that you need the big dress and the big day – the day every girl gets to be a princess. I didn't agree with any of that."
Jessica says she decided to get married because she wanted to share a life with Cash.
OK! HOT GALLERY: JESSICA & CASH SNEAK A SMOOCH ON THE STREET
"The one person you can choose to bring into your life as your family and to have that unconditional love with is your husband or wife. I'm choosing you as my family, and we're going to love each other through thick and thin."
The actress adds that she and Cash have taken a modern approach to their wedding vows.
"This tradition of obeying your husband like he's king? It's a load of crap," Jessica says. "Love and honor, yes. But you should love and honor yourself too, and your friends."