NEWS
Jessica Alba Sweet Talks Her Way Out of a Speeding Ticket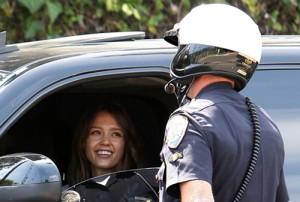 If there's anyone that could talk their way out of a ticket, it would definitely be Jessica Alba. The sweet and innocent – not to mention gorgeous – actress was pulled over by the LAPD on Wednesday in Beverly Hills, but she was, of course, able to charm the officer into letting her off with a warning. One flash of her pearly whites and we're sure the poor guy went weak at the knees.
Article continues below advertisement
Jess hasn't been so smiley lately and has been looking kind of down in the dumps, but we're sure she made an exception to get out of trouble with the law.
OK! GALLERY: JESSICA ALBA TENDS TO HER TRESSES
What was the reason for Jess's lead foot? She chalked it up to being chased by paparazzi. We're sure they can be pesky, but that's still no reason to break the law, Jess! Better watch out, next time you might not get off with just a warning!