NEWS
Jessica Biel Raves About Justin's Motherlovin'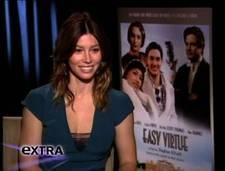 As you've probably already seen, Justin Timberlake and Andy Samberg teamed up once again this weekend to create another hilarious video for Saturday Night Live. This time, the "Dick in a Box" duo lent their unique musical stylings to a tune called "Motherlover," which has the two fellas talking about how they each plan on romancing the other's hot mom.
So how does JT's super-sexy gal-pal Jessica Biel feel about all this hyper-sexed tomfoolery? "I think he killed," the actress tells Extra. "I think he just killed it. So good."
Article continues below advertisement
The normally private Jessica also opened up about what she and Justin like to do in their private time. "We love to go to the theater. Love to go and enjoy Central Park especially when the weather is nice. And I love to go to dinner late because we don't do that in L.A. very much because kitchens close at 10."
If you're the one person who hasn't seen it yet, here's the now-infamous "Motherlover" clip:
<object type="application/x-shockwave-flash" data="http://widgets.nbc.com/o/4727a250e66f9723/4a08ada0b6c07a60/4a07ea0e96936862/3598a655/-cpid/d2c6e634b8246a3" id="W4727a250e66f97234a08ada0b6c07a60" width="384" height="283"><param name="movie" value="http://widgets.nbc.com/o/4727a250e66f9723/4a08ada0b6c07a60/4a07ea0e96936862/3598a655/-cpid/d2c6e634b8246a3" /><param name="wmode" value="transparent" /><param name="allowNetworking" value="all" /><param name="allowScriptAccess" value="always" /></object>