NEWS
Jessica: Country is "In My Bones"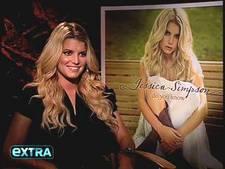 Jessica Simpson may have been a little bit rock and roll, but with the release of her new album Do You Know, it's clear she's also a whole lotta country.
"Country was just something that's in my bones," Simpson tells Extra. "It's in my blood. It's in my voice. It's in my heart and I just wanted to pack my stuff up and go to Nashville and write with some of my favorite songwriters."
Simpson says there's a song on her new album dedicated to boyfriend Tony Romo, the Dallas Cowboys quarterback whom she credits as being the love of her life.
Article continues below advertisement
""You're my Sunday" is about Tony," she says. "He is a place of rest in my life and that's what the song is about. It's his favorite song on the record."
Although many Dallas Cowboys fans blamed Romo's relationship with Simpson as the reason behind the team's less than stellar season last year, she declared, "I won't be wearing the jersey to the game, but I have been there and definitely going to support the Cowboys all the way."
Simpson hopes that the album will reveal her true self saying, "I just think it's important for people to know that I'm human. I'm a good person with a good heart and great intentions.I'm a good sister. I'm a good daughter. I'm a good girlfriend."
As for her public image, Simpson says, "It's really disheartening in a way how the media can control somebody's perspective on someone else's life.It's really sad how people want to believe the worst. I'm really not as important as people make me out to be."
Jessica's album, Do You Know, hits stores today!