NEWS
Jessica to Float by After Shark Attack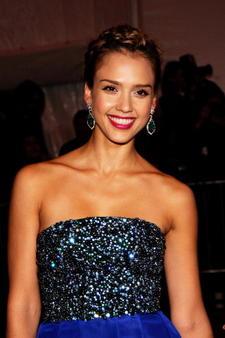 The super nice folks out in Oklahoma City don't seem to be riled up too easily, even after that had been plastered around their fair city.
E! News reports that the city's chief of police doesn't think Honor's mom will facea criminal charges for her role in the vandalism shark attack.
"Right now the investigation is still open. Nobody has been interviewed, but we're talking with the property owners to see if they're interested in pressing charges," Oklahoma Police Sgt. Gary Knight tells E! News. "That's typical in something like a vandalism like this; we'd interview the owners and go from there."
Article continues below advertisement
If things were to not go her way, the actress could be charged with a felony and face jail time. But Knight doesn't think it will go that far, adding, "in most cases like this, if the victims are certain they don't want to prosecute, then we usually don't and the case is closed."
Since Jessica was caught in a picture of her posing in front of a United Way billboard papered with a shark poster, she's apologized for the "ill-advised" prank.
"We find it unfortunate that Ms. Alba chose to vandalize a United Way billboard. A local media partner, Lamar Advertising, donated the board to us and we feel badly that their contribution has been damaged in this way," says Robert L. Spinks, president and CEO of United Way of Central Oklahoma. The damages were said to be around $235.
"We are certain that she didn't mean any harm as she has since apologized," he continues, adding, "We remain focused on our work rather than this minor distraction."
OKC's Parks and Recreations Department is also taking it easy on La Alba.
"We're not pressing criminal charges against Ms. Alba," spokeswoman Kristy Yager says. "She has provided an apology to the United Way and that was the most important thing to us and we're glad she did that. I fully suspect she had no idea what types of problems this would cause."
Some famous faces have all the luck.