NEWS
Jessica Hahn Takes a Jab at Barbara Walters on 'The View;' Babs Fires Back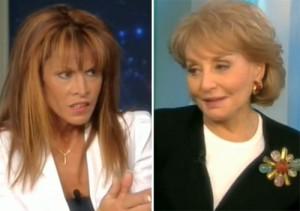 The View is featuring some very controversial guests this week, and inevitably a bit of a smackdown ensued on today's episode of the hit daytime talk show. One of the featured guests was Jessica Hahn, the woman who became infamous for having an affair with televangelist Jim Bakker. While Barbara Walters was addressing Jessica's scandalous past, she had no problem firing back at the news anchor, bringing up a scandal from Barbara's past.
Article continues below advertisement
Jessica's affair with Jim Bakker launched her into the media spotlight. In 1987, Bakker stepped down from his position as to protect his reputation, but eventually went to prison for paying hush money to Jessica.
During her interview today on The View, Barbara questioned her about her affair with Bakker, and continued to scold her for having an affair with a married man.
But Jessica wasn't going to let the 81-year-old co-host keep her in the hot seat. So she turned the tables.
She responded that Barbara had admitted to having an affair with a married senator in her book Audition, much to Babs chagrin.
Barbara shot Jessica a disapproving look and fried back with a "This is about you my dear, this is not about me."
OK! NEWS: BARBARA WALTERS "10 MOST FASCINATING PEOPLE 2010" RECAP
Article continues below advertisement
While she Jessica couldn't get Barbara to talk, she did seem to embarrass the host.
Watch the awkward exchange on GAWKER TV.
Other guests this week who have been part of huge media firestorms: Amber Frey, Paula Jones, Kato Kaelin and John Bobbit. Where are they now?
Tune into The View all this week to find out.
Jessica is no stranger to fighting with talk show hosts. Watch her 1992 interview with Joan Rivers below. It's no surprise that Joan won the battle!