NEWS
Jessica Lucas Takes a Shot with George Lopez; Talks About Male Admirers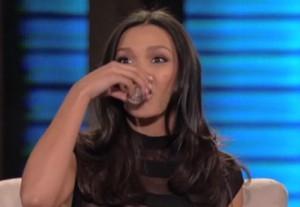 Canadian-born actress Jessica Lucas made her first talk show appearance last night on Lopez Tonight and the host certainly knew how to make her feel comfortable — a shot of tequila!
Jessica was happy to indulge George Lopez, throwing back the liquor before their interview!
The 25-year-old actress is best known for her roles in Melrose Place and Cloverfield, but currently she is starring opposite Martin Lawrence in Big Mommas: Like Father, Like Son.
Article continues below advertisement
The Canadian beauty grew up in Vancouver and had her acting debut in 2001 when she signed on as a series regular on the Canadian teen drama television series Edgemont.
She also had a guest spot on CSI: Crime Scene Investigation.
In her interview below with George, Jessica reveals she has a Twitter impostor and what it's like being single in L.A.
"What I noticed about L.A. is that people try to hit on you in your car," she shared. "It's incredibly creepy to be in a car and have the guy next to you roll down his window."
What do they say to you?
" 'Hey baby', nothing that's appealing," she said.
Catch the clip below.