NEWS
Jessica Says She'd Do a Movie with JT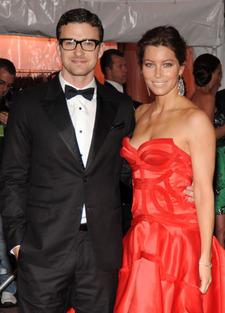 Jessica Biel has always been careful when talking about her relationship with boyfriend Justin Timberlake, but she will admit that she would be interesting in doing a movie with him someday.
"If it was the right thing, yeah. I would love to co-star with Justin," she tells Parade.com "I just don't know what the right thing is, though."
As for her reticence when it comes to discussing their life together, Jessica says they're basically boring.
Article continues below advertisement
"I think you have to be really careful. Once you start to go there you really are opening your life which is already so open. Anyway, we don't do much of anything. We certainly don't do anything interesting," she admits. "We just hang out at home. You have to have a real life because of the kind of crazy Hollywood stuff that you can get wrapped up in."
Beyond hanging with JT, Jessica adds that she has other things in her life keeping her grounded and busy.
MORE ON:
Justin Timberlake
"It's so important to have hobbies and girlfriends, and not know people that work in Hollywood. It's a sanity thing; it keeps you sane," she explains. "I was playing soccer and I joined a kickball league. That's way more interesting to me than going to some party."