NEWS
Jessica Simpson Calls 'Melrose Place' Crap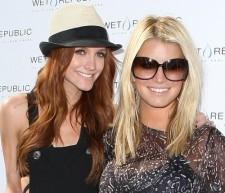 Jessica Simpson is speaking up on her sister Ashlee Simpson's behalf by telling Melrose Place their writing is crap after they fired Ashlee.
"CW catching up on MP.who writes this crap? i have had bad scripts to work with, but this?," Jessica tweeted. "Thank God my sister is amazing and got you some press."
She then adds, replying to a fellow Tweeter swearing off the show: "Watch til Jan... RT @mrandrewjpham:@JessicaSimpson ashlee was too good for that show and was the ONLY reason I watched,and won't anymore!"
Article continues below advertisement
Quite a change of tune from when Jessica was all about the show!