NEWS
Jessica Simpson Fears She'll Have to Face Giving Birth Alone!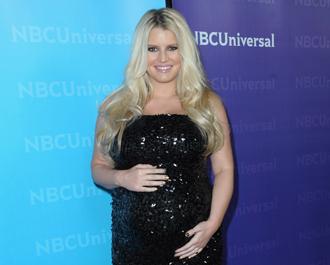 There are a million things to worry about while preggers with a first child: Am I eating right? Will labor hurt? But one thing that no mother-to-be should have to fret over is whether the baby daddy will be there for the birth. But somehow, that's just what Jessica Simpson is stressing about.
"Her big fear is that fiancé Eric Johnson will not be there for her when the baby's coming," a source tells OK!.
Article continues below advertisement
OK! GALLERY: JESSICA & ASHLEE SIMPSON LAUNCH TWEEN CLOTHING LINE IN NYC
Adds another, "Jessica really fears she will be going into labor and will be all alone. It's a really hard time for her because here she is in her last trimester, and she's always imagined having a baby would be the happiest day of her life. But now she worries."
But why would Jessica be having such thoughts?
"She is in an emotional state right now, to say the least," says a source close to the star. "Like any pregnant mother, her hormones are all over the place, so it's understandable that she's panicking. She's not herself because of the fact that she's so heavily pregnant and she's so stressed. She's very needy right now. She's in an emotional tailspin."
Luckily, Jess' loved ones are more rational and supportive. Her mom, dad and sister, Ashlee, as well as her friends, know that her fiancé will be there for her, too.
OK! NEWS: PREGNANT JESSICA SIMPSON'S NEW GOAL: LOOK LIKE JESSICA ALBA AFTER BABY!
"Eric will be there, and her family really believes in him," says an insider. "But calming Jess down is very difficult right now because she's understandably scared and in pain. Everyone is pulling for her and looking forward to when she calms down after the birth."
TO READ MORE ABOUT JESSICA SIMPSON'S PREGNANCY FEARS, PICK UP THE NEW ISSUE OF OK! OUT NOW!