NEWS
Jessica Simpson: I Own Myself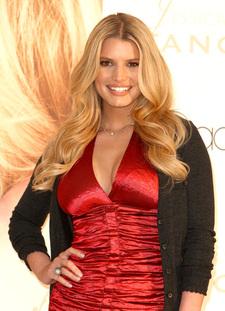 Sticks and stones may break her bones, but words will never hurt Jessica Simpson. The country singer tells the new issue of Vanity Fair that she's more than prepared to handle any bad press that comes her way, after dealing with onstage gaffes during her last tour with Rascal Flatts and unflattering "fat" pictures of her at a performance.
"When it comes to media criticism, that's just something I have had to train myself—literally train myself—to ignore," she says. "Because I'm the one up there onstage, and I can feel the energy of the crowd. And I know when I did good. And I know when I did great. And there wasn't one time on this tour when I felt like I butchered it. I mean, the way people make it sound, I should have never been singing in the first place."
Article continues below advertisement
All the media attention throughout her career is just a part of the business, Jessica explains.
"It comes with what I do, and I know that every day the media's going to challenge me, is going to want to bring me down. But I feel like I'm at such a place that I own myself, and it's authentic," she reveals. "I own that authentic part of myself, and none of those words are harsh enough to make me believe them."
She's also keeping a positive attitude in her relationship with Dallas Cowboys quarterback Tony Romo, despite the whispers of a "Jessica Jinx" whenever she shows up at a game.
"That's how the story goes. Can't help it. But we don't let it affect our relationship. If we did, we wouldn't be together, because it happened at the very beginning," she explains. "Dating the Cowboys quarterback comes with hype, the fans, the bloggers, but I've never dated a guy that was more simple. I'm always there for him after a game, and he knows he has me to come home to."
Article continues below advertisement
For his part, Tony seems to be quite happy in his relationship, telling the mag, "She has a very small-town side to her. We're very similar in that we both appreciate the hometown feel to a lot of things, and live our life like that."
Their relationship is on such solid ground, Jessica admits Tony's even seen Newlyweds, her reality show on MTV with ex Nick Lachey. She says he's seen "a couple episodes."
"He thought I was cute," she adds.
And although she reveals she hasn't spoken to Nick in years, she has no bad feelings about their on-camera marriage.
"I believe it did not affect our marriage," she says. "Because we enjoyed watching those episodes, and that will always be a time I cherish. It made me understand what marriage is, what love is, what commitment is."