NEWS
Jessica Simpson & Kanye West Ring in the Holidays at the Macy's Thanksgiving Day Parade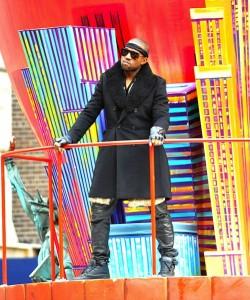 The holiday weekend was enjoyed by families far and wide, who watched as celebrities like Jessica Simpson, Kanye West and more took to floats to ring in the festivities in NYC at the 84th Annual Macy's Thanksgiving Day Parade.
Jessica stayed cozy on her float as she waved to fans in a pink coat, while Kanye stood his ground on a different float.
Article continues below advertisement
Miranda Cosgrove, Kylie Minogue, and Keri Hilson also made sure to stop by and say hi to fans on the colorful and ornate floats that drifted down the streets of NYC on Thursday Nov. 25.