NEWS
Jessica Simpson & Nicole Richie Premiere 'Fashion Star': Hit or Miss?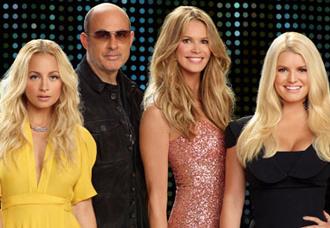 Who watched Fashion Star last night? With Project Runway producing some less-than-exciting catwalks lately, we were curious to see how this newbie would fare. We're going to come right out and say it: We were disappointed. While the concept — buyers from major retailers bid on designs the audience can purchase the next day — is innovative, the designs were not. Granted, this is a show about ready-to-wear garments, but still... shouldn't we want to see something we haven't seen a million times before?
Article continues below advertisement
OK! NEWS: JESSICA SIMPSON TELLS JAY LENO: AT FIRST SHE "FREAKED OUT" OVER PREGNANCY
With the possible exception of Orly Shani's convertible skirt, we're pretty sure nothing showcased on last night's premiere of Fashion Star would have made us stop while walking through a store (and that's only if it was obvious that Orly's skirt could be worn two ways). In addition, pieces that we thought were nice but nothing special are priced today as though they are... well, something special. Lizzie Parker's asymmetrical tunic for $79? The black-and-white cocktail dress Jessica Simpson loved by Edmond Newton for $110? Would you spend that much on these pieces?
Also, we were hoping to see more of Jessica, Nicole Richie and John Varvatos as mentors, and were confused about why they were only shown talking with a select few designers. Maybe that will change as the show progresses, but we're not sure how often we will make a point to tune in. Elle Macpherson did a decent job as the host, but something about the set and the acoustics made the whole thing seem pageant-y. It did not help that the pace was completely off. We got the full sob-story on some people, and others were rushed over so badly we thought we missed a segment. And yet, they had time to showcase Elle's lingerie line, complete with models on motorcycles. We aren't even sure how many designers we started out with!
Article continues below advertisement
OK! NEWS: FASHION STAR'S NICOLE RICHIE OPENS UP ABOUT WILD PAST
On the plus side, we thought Jessica, Nicole and John provided good feedback, as did the buyers from Macy's, H&M and Saks Fifth Avenue. We would welcome Terron Schaefer from Saks as a guest judge on Project Runway! Something about him is delightfully brutal. We also liked the banter between the supposed mentors while the runway shows took place, and we're happy about the decision to send Nicholas "women don't know anything about menswear" Bowes packing. Oh, and we liked Jessica's dress (more than anything we saw on the runway).
What did you think of Fashion Star?