NEWS
Jessica Simpson: She's Still In Love with Nick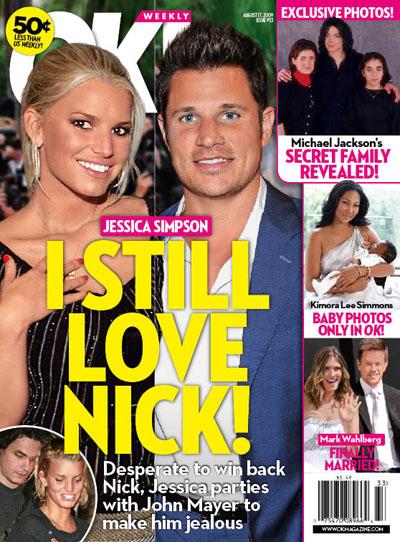 Jessica Simpson: A night out with John Mayer convinces the singer that she's still in love with her ex-husband, Nick Lachey. OK! breaks down how the pop hunks stack up against each other.
Michael Jackson: New photos, exclusive to OK!, surface of Michael Jackson and Omer Bhatti, his rumored love child. Find out more about the 25-year-old dancer and his connection to the King of Pop.
Twilight: Overwhelmed by superstardom and a superfamous girlfriend, Robert Pattinson puts his romance with Kristen Stewart on ice. Plus: Why Rachelle Lefevre was replaced with Bryce Dallas Howard, and how Kristen played matchmaker for Selena Gomez.
Kimora Lee Simons & Djimon Hounsou's Baby Bliss: The Baby Phat CEO and actor introduce OK! to their bundle of joy, Kenzo. Kimora opens up about her new son, her secret wedding ceremony and life as a soccer mom.
Plus: Brad and Angelina's new relationship rule. Mark Wahlberg finally marries! The summer's best bikini bodies. How to live like Sienna Miller. Work your summer buys into autumn and update them for cheap! Julianne Hough has the Last Word.
Article continues below advertisement