NEWS
Jessica Simpson Shoots a Routine Smile to Photogs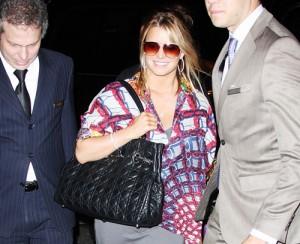 Jessica Simpson left JFK airport yesterday in NYC, smiling at the photogs who awaited her arrival. Reportedly, the singer attempted to trick photographers by leaving through a secret exit, but her plan didn't work, leaving her to have to "Say Cheese" as she departed.
Jess looked a little disheveled as she left the airport, which can happen to any globetrotter!
World traveling has become a routine for the star whose new reality show Price of Beauty has her traveling around the world interacting with different cultures to see how they measure beauty.
MORE ON:
OK Galleries & Photos
Article continues below advertisement
OK!'S RED CARPET CONFIDENTIAL: JESSICA SIMPSON WANTS A NORMAL MAN
As far as Jess's love life, she isn't necessarily looking for a high-profile celeb to date.
"I'm looking for a normal man," the singer/actress/reality star/entrepreneur, 29, told reporters during Good Housekeeping's Shine On 125th Anniversary Celebration held Monday in NYC. "Just somebody that's normal. That's it."