NEWS
Jessica Simpson Talks Loving Her Body with 'Lucky'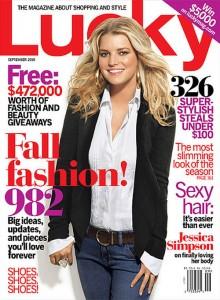 Jessica Simpson looks strong, confident and exudes happiness on the September cover of Lucky magazine. The songstress — who recently Tweeted her love for new beau Eric Johnson and is one of the names linked to the American Idol judges' panel — kept the focus of her cover shoot on the fashions she rocked. Jess chatted about her experience traveling for her reality show Price of Beauty and being comfortable in her own skin!
Article continues below advertisement
"We all obsess over looking like the perfect Barbie type, and that's not always what's beautiful. It's about making peace with yourself," Jess told Lucky, via PopSugar.
Filming her VH1 series really put Jess in touch with her inner beauty and influenced her style. Her wardrobe has become more international!
"Morocco was a huge influence on me when it comes to jewelry and fashion. You can't help but want to buy caftans when you're there!" she said.