NEWS
Jessica Simpson's Dynamite Diet Regime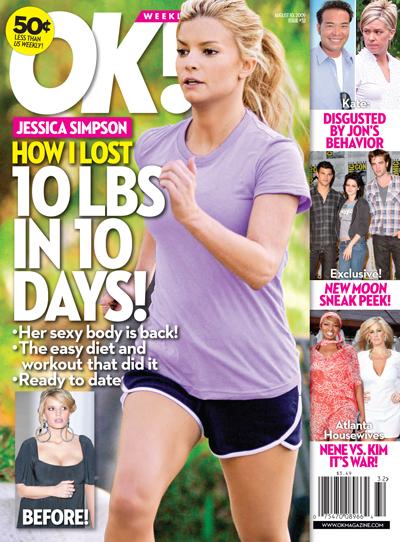 Jessica Simpson: Newly split from Tony Romo, Jessica isn't sitting back and dwelling. She's hitting the gym and starting a whole new diet, which is truly the best revenge. Find out how she lost 10 pounds in 10 days and how you can, too!
Jennifer Aniston: The actress has nipped in the bud her new relationship with Gerard Butler just as quickly as it began. Is she leaving the door open for Bradley Cooper to step back in or is she ready to find a new man?
Britney Spears: The pop star seems to be in a better place in her life than she has been in a long time. With her new man Jason Trawick by her side, Britney has a whole new life. Does this mean that she can finally get out from under her dad's control? Plus, check out Jason's new makeover!
Twilight: Robert Pattinson and Kristen Stewart are finally reunited for the New Moon panel at Comic-Con in San Diego. But their reunion ended up being more awkward than amorous. Did they spend too much time apart this summer? And, is Taylor Lautner the new hunk of the Twilight series?
Brad and Angelina: Their son Maddox goes with his mom on his first mission trip overseas. Is it the start of more humanitarian work for the youngster?
Michael Jackson: As Janet Jackson passes on taking care of Michael's three kids, will older sister Rebbie Jackson step up to the plate to take on the responsibility?
Plus: Katie Holmes danced her socks off on So You Think You Can Dance. Is this the beginning of a new stage in her career? The stars of The Real Housewives of Atlanta dish the dirt on each other in high fashion. Discover the details on where A-list couples like Blake Lively and Penn Badgley like to wine and dine. Get three refreshing summer cocktail recipes from three hot and talented chefs. Learn how to live like Ashlee Simpson-Wentz with her favorite jewelry and makeup products. The lasting impressions of View host Joy Behar.
Article continues below advertisement