NEWS
Jessica Simpson's the "Most Comfortable" She's Ever Been with Body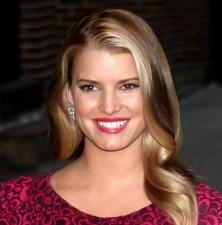 Jessica Simpson is no stranger to reality TV, receiving a large amount of attention for her show Newlyweds opposite ex-husband Nick Lachey. After a very public divorce, a string of relationships and negative media attention for her weight, many in Jess's position may have rejected the idea of another reality show — but the songstress did not want to let the opportunity pass her by. "When I heard the concept of The Price of Beauty, I was in love with it," Jess told PopEater.
Article continues below advertisement
"I thought that that would be the best way to show people me as a vulnerable woman again," she continued to PopEater in an exclusive interview. "Newlyweds, that was a great experience for me. If they were to have said, "I'm going to be shooting in your house," that's a different story. But we get to go into the homes of so many different women all around the world with this show, so it didn't invade my space too much where I felt uncomfortable. So ... I got to control the situation a little bit more than the last time."
The media firestorm surrounding Jess's weight, after a picture surfaced of her wearing the infamous "mom jeans," served as an impetus for the blond bombshell to host her new reality show The Price of Beauty.
Jess said filming the show opened her eyes to women of various cultures sharing a common thread — going to "extreme lengths to feel beautiful."
Article continues below advertisement
"It's a really sad thing about society today, how much pressure women feel to be perfect... I enjoy people's flaws. That's something that I embrace. I even embrace that about myself. I mean, I have a bump in my nose, and it's one of my favorite qualities about myself."
Jess said she enjoyed traveling overseas and witnessing first hand the various beauty regimes of women from different cultures.
"Truly, I feel like I was the winner in the show. I came home with so much perspective."
Jess is getting ready for a big birthday this year — 30! Instead of wallowing about her age, Jess is looking forward to the next chapter in her life.
"I'm very excited to turn 30, and I just feel like I'm now the most comfortable I've ever been in my body. I'm a woman, and I have curves and I celebrate it, and I'm definitely confident. At the same time, though, there are a lot of girls who are still going through this.
Article continues below advertisement
What is her advice for young Hollywood starlets like Miley Cyrus who are subject to societal pressures?
"I think it's very important for a girl to really understand herself — whether that's journaling, or writing or whatever you can do to really do your own personal homework — just know who are you are, and know what is special about you, and even embracing your flaws," she advised.
Jess also feels its important to understand there is going to be pressure and how to handle it.
"There is always gonna be pressure, whether you're the biggest star in the world or if you're just at high school walking down the halls," she adds. "Everybody feels pressure to be beautiful, and I think that the only way to be beautiful is to own it for yourself. That's the only way to feel beautiful."
Article continues below advertisement
One of her most difficult challenges on The Price of Beauty set was taking the catwalk as a runway model in a Paris fashion show.
"I mean, come on. I'm 5'3', and I eat my burgers every now and then, so I'm not a six-foot model who is so skinny you could touch them and they fall over, you know? I'm a totally different body shape. So, I was intimidated as heck to get out there."
Despite her fears, Jess surmounted her insecurities and braved the runway.
"When I was walking out there, I knew that it was gonna be all over the press the next day, and people had their things to say, and I knew it and I was shaking, and it was a very vulnerable moment for me, but I did face the fear," she said. "But it is something that I'll never do again. I was about to puke."
So is there any more reality TV in Jess's future like Dancing With the Stars?
"I'm not saying that I won't do any other TV, but I don't think that I would be so good on Dancing With the Stars," she said.
"I think it would have to be something that I would develop."