NEWS
Jessica Simpson's Thanksgiving Feast With Eric Johnson's Family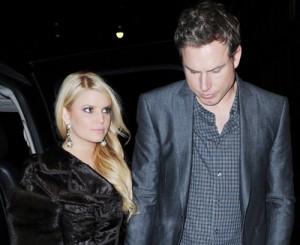 Jessica Simpson had a very busy weekend in the Big Apple. She kicked off her holiday with a performance at the Macy's Thanksgiving Day Parade followed by some quality time with fiancé Eric Johnson and his parents! That's right — Jess finally met Eric's family this holiday weekend and OK! has all the details on their first dinner together!
Jessica's sister Ashlee Simpson-Wentz and father Joe Simpson joined Eric's parents and some of the couple's friends for a big pre-Thanksgiving dinner at Coppola's restaurant in the Gramercy section of NYC.
Article continues below advertisement
An insider tells OK! the jolly group of 12 enjoyed an Italian feast, including calamari, eggplant rollatini, homemade focaccia with grilled veggies, jumbo rigatoni in lobster sauce and homemade paparadelle with short rib.
Jess sampled from all the delicacies on the table while Eric was sure to stick to eggplant — following his vegan diet.
"Sal Coppola, the owner, made Jessica laugh because he said to her fiance 'Oh, and I thought Jessica was going to be the difficult one, the picky one!' " the source tells OK!.
The guests dined from 8 p.m. to 12 a.m. and enjoyed good conversation.
"The conversation really revolved around Jessica and her life and career, as this was the first time that she ever met his family," the insider adds. "Eric's mom was soaking it all up and hanging on Jessica's every word."
Article continues below advertisement
According to the onlooker, Jessica seems very comfortable around Eric's family and had no difficulty chowing down.
"Jessica has a really healthy appetite. At the end of the meal, she said aloud, 'I can't eat another thing!' Then the waiter rolled over the dessert cart and as soon as she saw the 'Chocolate Bomb' chocolate soufle cake, she said 'I'll have that!' and ate the whole thing."