NEWS
Jesus Didn't Cheat On Madonna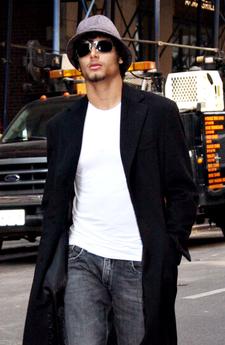 Jesus Luz says he had the perfect alibi against claims he cheated on Madonna: his mom!
The sexy Brazilian said he couldn't have a hooked up with model Luciano Costa as gossips claim -- because Mrs. Luz was with him at the party in Rio where it was supposed to have happened.
"Never would I become intimate with a woman if my mom was nearby - even if I was interested in that person," said Jesus, who is rumored to be dating Madonna, though he still refuses to confirm the gossip.
Article continues below advertisement
Onlookers at the party had claimed that he held her close and whispered in her ear.
But Jesus insists, "I have nothing with Luciana."
"I danced with Costa," he admitted, "but I danced with everyone at the party."
But even if Jesus is loyal to Madonna -- it doesn't sound like Jesus is too committed to Kaballah.
Madonna has been taking him with her to worship in New York.
But he said: "I enjoy studying Kaballah. If tomorrow I don't discover another doctrine I don't see any reason for not continuing my studies."
We wonder what Madge will have to say about that!