NEWS
Jet Crash Eyewitness: It Was Hopeless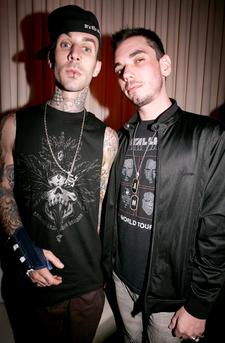 When the Learjet carrying musicians Travis Barker and DJ AM and four others crashed to the ground in South Carolina Friday night, seriously burning Travis and DJ AM and killing the others, truck driver William Owens says he saw "a ball of fire going across the road."
"It ignites – it crashed, in fact – went across the highway and crashed, dumping two guys out onto the highway, and they were on fire," Owens tells E! News in an exclusive interview airing tonight. "I'm seeing that as I approach, and the plane is burning slightly."
Article continues below advertisement
He approached the scene of the crash to try and help whoever he could, crossing jet fuel to get close to Travis and DJ AM, who were still beating the flames from their bodies.
"They're circling. They're like stunned. I certainly am as well. I don't know what to do. They don't know what to do," he tells E!.
"We both took a step to go towards the plane like maybe we could do something. We couldn't, because now close to a minute has expired and the plane is burning badly. It was a totally helpless, hopeless situation."
At this point, according to Owens, Travis and DJ AM were walking and seemed okay, if not in shock after what they'd just survived.
"I didn't see the burns. I just know that they were on fire, and I figured they put themselves out and they were fine. Like I said, they weren't cry babies. All I heard... them say was, 'Oh, my god.' he adds. "I said nothing more to them. They said nothing more to me."
For more on this story tune-in to E! News daily at 7pm and 11pm ET/PT tonight.