NEWS
Jewel Talks Marriage & Babies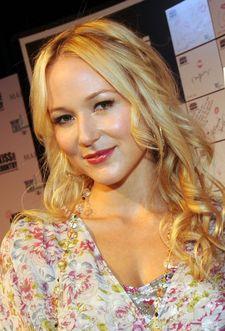 Life is pretty great for Jewel. Besides a career of hit songs, the singer recently married her longtime love Ty Murray and the two currently run a ranch in Texas.
So when OK! caught up with the singer at A Kiss for Country Campaign to raise awareness for domestic violence, we had to ask: Will the newlyweds be adding to their family any time soon?
"I love being married, I feel more settled," Jewel told OK!. "We're really excited to have a kid. I'm just excited by the whole process. It's exciting as it is scary, but exciting is winning out."
Article continues below advertisement
But in the event that the couple does have a baby, don't expect there to be any "Jewel" or "Ty" juniors. "I probably wouldn't name a child after me," she said. "I wouldn't name a child after Ty either. I wouldn't want them to live in the shadow. I think it's already hard when you have two people who are successful as parents to not feel like you're in their shadow--much less if you're named after them as well."
When it comes to being married, Jewel says she was surprised by how different it felt. "We were together ten years, so you wouldn't think that there would be any difference," she told OK!. But it does feel different. He feels more like a husband. It's a much more settled, secure feeling. It feels really good."
Jewel says it's the little things that make her attracted to her husband. "He's really fit from his job--riding horses and working on the ranch--but I think the thing that makes him most attractive is he earns my respect every day. He's a person who means what he says and does what he means and is very authentic."