NEWS
Jewel & Ty Murray Welcome Baby Boy: "We Are Overcome With Happiness"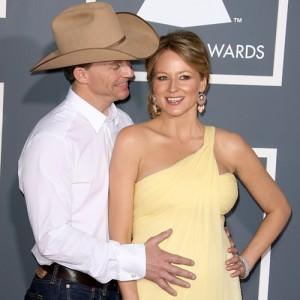 Jewel and her rodeo star hubby Ty Murray have welcomed their first child. The 37-year-old singer/songwriter gave birth to a baby boy Monday in Texas.
The couple welcomed 7-pound 6-ounce baby boy Kase Townes Murray at 7 p.m. last night in Texas.
"Ty and I are so pleased to welcome our new baby boy into the world," Jewel in a statement posted on her personal website. "We are overcome with happiness — it really is as great as everyone told us it would be — better even!"
Article continues below advertisement
The new mom is the host of Bravo's Platinum Hit and reportedly found out she was pregnant her first day on set.
This month, Jewel covers Fit Pregnancy and opens up about her pregnancy.
"I'm enjoying pregnancy much more than I thought I would," she shares. "I didn't know what to expect, every woman is different and you hear such horror stories. But I also heard that you should try to enjoy it, so I took that to heart and tried not to fret about weight gain or anything else. Pregnancy is a privilege, and I feel lucky that I get to do it. It's kind of sad that men don't."