NEWS
OK! Exclusive: Jhené Aiko Talks Why She 'Loves' Big Sean, Her Plans For Her Sophomore Album And Why Kanye West Would Be An 'Entertaining' President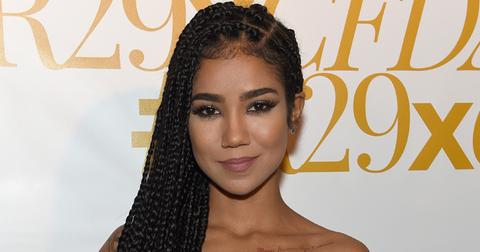 Jun. 22 2016, Updated 8:22 p.m. ET
View all comments
Article continues below advertisement
Aiko stands as one of the originators of the dark R&B sound that has led to a renaissance of sorts among a new generation of singers, producers and songwriters who combine typically slow-tempo tracks with electronic-heavy production elements and moody lyrics.
With her free-flowing presence, airy, nymph-like style and oftentimes eerie sound, Aiko has carved a distinct spot for herself among her contemporaries, watching her following grow massively after the release of her duo of EPs, Sailing Souls and Sail Out, and her critically acclaimed debut album, Souled Out. But as she prepares to take on the challenge of crafting her highly-anticipated sophomore album, Aiko is taking a brief departure from the sound that has earned her three Grammy Award nominations and pushed Souled Out to the top of Billboard's Top R&B/Hip-Hop Albums and Top R&B Albums charts.
Collaborating with singer Jessie J and the boy band Rixton this summer, Aiko took part in creating "Sorry to Interrupt," an exclusive track for Pop-Tarts Crazy Good Summer series.
"Jessie J sort of picked who else she wanted to be a part of it. So that was kind of cool for her to actually say this is who I think will be a great match," Aiko said ahead of the Pop-Tarts Crazy Good Summer Concert at NYC's Pier 97. "Though none of us are alike in any way, I do think it's a very interesting mix of artist!"
Article continues below advertisement
Like the musical collaborations she's participated in before, Aiko said she'll take a little inspiration from her time with Jessie J and Rixton as she constructs her next era as an artist.
"I kind of feel like everything that I listen to shows up in whatever I do and whatever I'm working on," Aiko said. "'Sorry to Interrupt' is a fun song. It's not necessarily a song that I would put out as a single for myself. But it definitely has elements that I can pull from."
Article continues below advertisement
Jhené Aiko: We've gotten together … it feels like more than we have. We've been doing these meet and greets at grocery stores and rehearsing, and we recorded the song together and all that. When everyone comes together, they' re so silly. All they do is crack jokes, and they are both from England. I don't know -- something about an accent to me -- when a joke is said in an accent it makes it funnier. So I'm like trying to keep up with their jokes. Like, "Okay. Let me try to add in a little of my jokes."
OKMagazine.com Does it work?
Aiko: That's the thing. Everyone has the same sense of humor, so it works.
OKMagazine.com Do you actually eat Pop-Tarts?
Aiko: I do. Pop-Tarts remind me of my childhood, and I have a six-year-old daughter who likes Pop-Tarts. I'm more affected by sugar as I get older. So for me, it's a treat. It's like, "I want something sweet. Let me nibble on on a Pop-Tart."
OKMagazine.com Your fans are eager for your next album. Do you think you'll take anything that you've experienced specifically with the Pop-Tarts project and use that as inspiration for your next album?
Article continues below advertisement
Aiko: For me, one of the main reasons I love this song is because my daughter loves it. I always keep that in mind. In the beginning, when she was a lot younger, she would just always ask was I sad. "Are you sad in this song?" And I'm like, "No." She's a kid. So she wants to hear the hype stuff. I'm like it's just one of those songs. So it's definitely something that I'm more conscious of now.
OKMagazine.com So you're showing that you can do the hype stuff too!
Aiko: Yeah! I think it's cool that we got to bring our own style to our verses. And it wasn't, "Because this is more of a pop song, let me try to sing it a little different." It was like everyone did what they do.
OKMagazine.com You also had your PacSun X Neff fashion collaboration recently be released. What's your take on the response to your collection, and have you considered starting your own line?
Article continues below advertisement
Aiko: When I was younger, like literally elementary, I always said I wanted to be fashion designer. I thought that every little girl wanted to do fashion and sing and model and act. Then as I got older, I didn't really think I was that into fashion because I wasn't into brand names. But I always knew what I liked and what I didn't like. I've always felt like a creative person. With this process -- to actually be able to see prints and feel textures and stuff like that -- it was fun. I never knew that people like how I dress because I never dress for the people. So it was like, "Oh! That's cool." If people like it then I guess I can contribute to the fashion world.
OKMagazine.com Do you have any favorite brands or designers?
Aiko: I love Alice + Olivia. I love Opening Ceremony. I love Kenzo and Suno. Alexander Wang, but who doesn't. It's funny because I didn't grow up knowing names. But now I'm like, "What is this?" And then it will be consistently the same designer. And I'll be like, "I guess I really like Kenzo. I really like Opening Ceremony!"
OKMagazine.com Now one of your most recent projects that had tons of buzz was the "I Know" video with Big Sean. You've described him as being like your brother, and I'm curious what drew you two together?
Article continues below advertisement
Aiko: He works closely with No I.D. I guess that was his first album he was working in the same studio. I'm singed to Def Jam through No I.D.'s label. I was working in No I.D.'s studio on the EP and Sean was just there. He came in the room and we had already met. He was just like, "My DJ put me on to you. You're tight." He was like, "I have some stuff that I know that I want you on." I think that night we did a song on his mixtape, "I'm Gonna Be." Then he played "Beware." He was like, "Do you want to do a verse or do a sing-along?" Ever since then we just became close. I love Sean!
OKMagazine.com And then you go and kiss him in the "I Know" video!
Aiko: What's crazy is that was nowhere in the treatment or anything. Even he didn't know. It was a long day. We had to go through the makeup and then we had to take the makeup off and do the very last scenes. The director was like, "So what do you guys think about if at this part you guys kiss? It is the last scene." I was like, "I mean … sure." I don't consider myself an actress, but I would like to explore theater. That's something that might come up. You might have to kiss someone. And it's Sean. I feel so comfortable around him anyway. I think we did it twice and it didn't' feel uncomfortable. Afterwards it wasn't like, "Oh, we're in love now." I think what played a major part of it not feeling any type of way was that we were so tired. We were like let's do it, let's have it look right and let's get it done.
Article continues below advertisement
OKMagazine.com Well you are a great actress. It came off pretty believable.
Aiko: I was nervous because I've never kissed someone on camera and then watched it back. So it was cool.
OKMagazine.com That's pretty dope it just happened.
Aiko: Yes, unless Sean knew about it and didn't' tell me. But genuinely we were both kind of like, "Oh. Okay." So I don't think he would trick me.
OKMagazine.com So we all now know your trademark line from "Post to Be" with Omarion and Chris Brown. Do you ever think that you have to top the success of that song in your solo career?
Aiko: I feel like Before "Post to Be," it was "The Worst." It was, "I don't need you. I want you." Before that it was, "I love me enough for the both of us." Before that it was, "Beware of the one with the broken heart." It's kind of just all I see is progression. I don't' feel like I'm an artist that has to stay in any type of box. Some days I'm ridiculous and absurd. Some days I'm quiet and reserved. Some days I'm sad. Some days I'm happy. And because I write my music, that shows up, a bit of everything. "Post to Be" was a fun song. It was funny. The song isn't funny but I wanted to be funny. I feel like guys tell girls to suck their dick all the time. I don't see the difference. I don't believe in a double standard. I like to freestyle rap a lot and it's always very nasty. I grew up listening to Lil Kim, so that could give you some insight.
Article continues below advertisement
Sometimes to get people's attention you have to yell something crazy. Then when they look, you can tell them something a little deeper. The people that listen to my music, follow my career and follow me, they know what it is. Those are the people that I'm really connecting to and that really understand. Those are the people that I do music for.
I'm a fan of Tupac. I feel like he represented that whole multifaceted type of person that could be really smart but also make a song like "I Get Around" then make a song like "Dear Mama." To call a girl a hoe on one song and then say don't call a woman a bitch, that' just human. Anyone that acts like they're just one way is pretending. Even if it's in your mind, you're changing your mind. Some of us just do it out loud.
Now a lot of people were first introduced to you back on B2K's Christmas album when you sang "Santa Baby." What is one thing you would tell your younger self to make the journey to where you currently are in your life a little easier? 
Aiko: I feel like everything happened for a reason. So I would say just keep the faith. Keep being patient. And with the boys, try not to focus so much on the relationships. I was really young when I started being in relationships, so I think that contributed to my stories and to my mentality as far as relationships now. But I have a daughter, and the same things I would tell my younger self, I would tell her. Be patient. Everything is happening for a reason. You're beautiful. I would constantly tell my younger self that because every young person goes through those crazy years of just being super insecure. And just keep doing it. Keep going. Don't listen to anyone's negativity.
And do you think Kanye would be a good president?
Aiko: Do I think Kanye would be a good president? I don't know. I don't know his political views well enough to know what he would actually try to do or want to do. He'd be an entertaining president for sure. Everyone would definitely be watching the State of the Union addresses. He'd be the most viewed!