NEWS
Jill Zarin Eats Everything in Moderation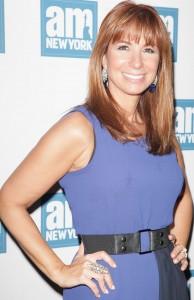 Real Housewives of NYC star Jill Zarin is sitting in front of a plate of banana bread, but she can't say "no."
"I watch what I eat every day," the reality star, 47, tells me. "When it's going in, I'm negotiating. I'm constantly negotiating. If I'm going to eat the banana bread now, which I'm going to do because it's right in front of me, I'm not going to eat as big of lunch, because I have self-control. I do. Moderate self-control. That doesn't mean I'm not going to eat the banana bread, though."
Article continues below advertisement
She adds, "I don't believe in depriving myself of anything, because the more I deprive myself, the more I'll obsess over it, and the more I end up eating when I get it into my mouth. So, if I want banana bread, I will have some. I just don't eat the whole thing!"
Even a small bite will satisfy her.
"It is a diminishing return. Once I taste it, it's like my body accepted it and got the gratification of it, and now I don't have to eat the whole thing. I just had it!"
She spreads out treats that she loves.
"I go through phases of food. I went through a phase of chocolate-chip Haagen-Dazs ice cream. I went through a phase where I was eating it every single day until I got bored of it, and I switched to something else. But what I did was, instead of eating half a pint or a pint, which some people do, I'll have one tablespoon. That's it. And I'll have another tablespoon the next day. It may take me a week to eat the pint versus eating half a pint today, or going through five pints. It's quantity; not the quality. If you want it, have it – just eat it a little bit at a time."
MORE ON:
Red Carpet Confidential
Article continues below advertisement
She continues, "Or a sandwich – if you're dying for a panini mozzarella – now I'm getting hungry – a panini mozzarella arugula sandwich. Delicious, right? It's got two halves, so I say to the store when I get the sandwich, 'could you cut it into three?' Eat one now at 12:00, eat one at 3:00 and eat one at 5:00, and what I would've normally done is eat a whole sandwich for lunch, and then have dinner. Well, guess what, I don't need dinner now because I took that big sandwich, cut it in three and I had it throughout the day. I do that a lot."
She notices eating habits vary by continent.
"This is another secret dieting tip: When I go out for dinner, Americans eat much more than Europeans," Jill says. "You go to dinner, you order chicken – it's an organic chicken, they're usually smaller, fresh – they don't eat as much on their plate. I go to an Italian restaurant, and it's like eating for four on my plate. If I go to a regular restaurant that has huge portions, right away, as soon as it's delivered, I take off a piece … let's say I'll go to my local Italian restaurant … where I buy chicken francaise. They don't give me one cutlet, which would be normal. They give me two! I'm not supposed to eat two. Just because they gave it to me doesn't mean I have to eat it, so I'll take one cutlet, put it on my plate in the restaurant, and ask them to wrap up the other half. And then I'll eat it the next day, or I'll give it to my dog Ginger."
Jill can't be tempted to eat the whole meal.
"You don't have to eat everything because they give it to you. Portion yourself out and get the rest to go - right away, before you even eat, take half, because that way it looks good when you get it the next day, and it's not all picked-at, and then you wrap it up – it's gross the next day. As soon as it comes out, take out half, and wrap it up to-go."
Pick up the OK! on newsstands now for Jill Zarin's What I Ate Today interview. The cover line is "Biggest Loser Winner Olivia: Half My Weight!" And catch Jill on Bravo's Real Housewives of NYC, which airs Thursdays at 10/9C.